SKÅBU HYTTER OG CAMPING
Address
: Skåbuvegen 2313, 2643 Skåbu (
show map
)
Location: Skeikampen, Gausdal, Espedalen, Skåbu
Camping | Skåbu Hytter og Camping is an inviting courtyard in scenic and quiet surroundings. Skåbu is a vivid mountain village, rich in cultural and outdoor activities, hunting and fishing.
-Open all year.
-The site has 7 rental units, which each accommodates 2 to 7 people, in total 30 beds. Self-catering cabins with high standard and cabins with good standard.
-A new apartment, which accommodates 7 people, have high standard and are arranged for disabled people.
-Our new service building is also arranged for disabled people. It has a large, well equipped kitchen with dishwasher, dining area and TV. The service building also contains toilets, bathrooms, washing machine and arrangements for emptying chemical toilets and waste water.
-New this year is an area arranged for motor caravans, caravans and tents.
-The site is child-friendly, have a barbeque house and free Wi-Fi. TV in cabins and the service building.
-Skåbu Hytter og Camping is a good starting point for short and long outings in marked tracks for walking, cycling and cross-country skiing.
-Information and planning of outings by foot, bicycle, ski and car.
Compare "SKÅBU HYTTER OG CAMPING" with similar alternatives
Beautifully situated at the top of the mountain valley of Espedalen at 930 meters above sea level, Dalseter Høyfjellshotell has a wonderful view of the valley and the mountains in Jotunheimen National Park.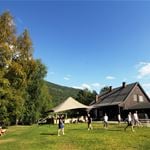 At our base we have big rooms that you can stay in which overlook the beautiful Sjoa River.
Sygard Grytting is a distinguished medieval farm hotel, with a history dating back 700 years. It is among Norway's most beautiful and best preserved of its kind, and looks like it belongs in one of the folk legends. Guests can stay in farm buildings dating from 1650 to 1860, and enjoy a hearty traditional meal prepared with fresh ingredients from own vegetable and fruit garden. The hosts at Sygard Grytting are the 16th generation owners of the farm.